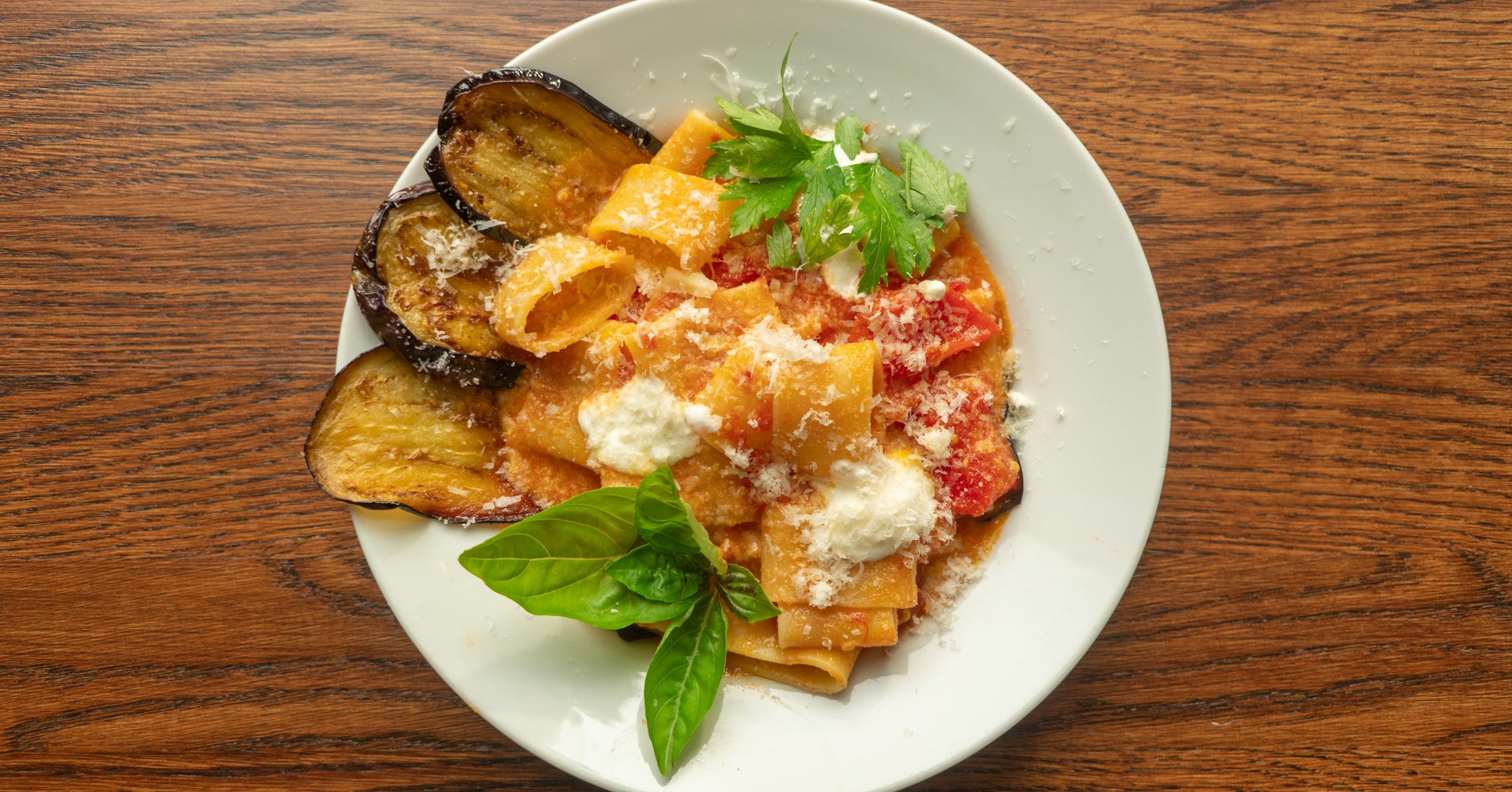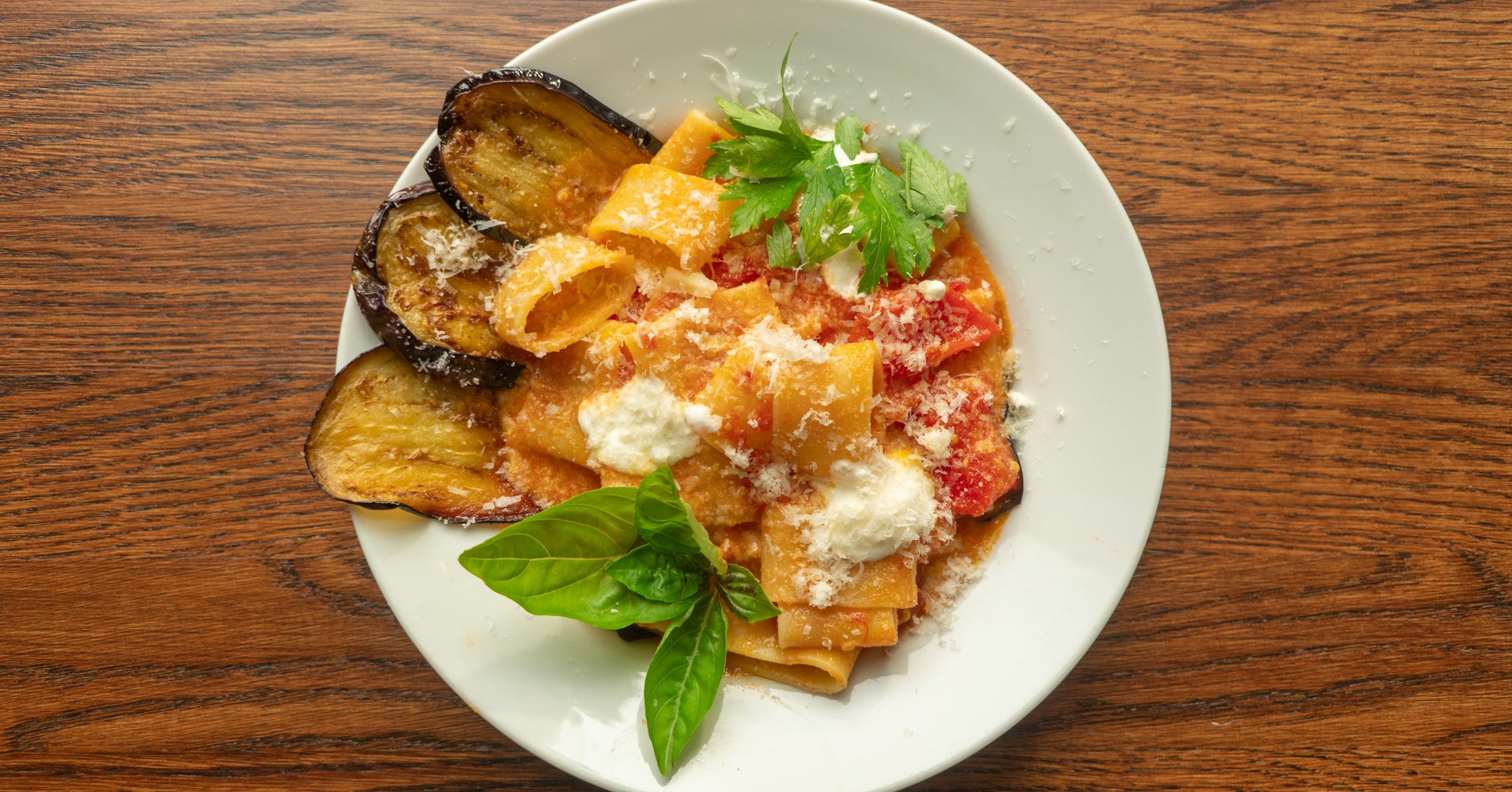 "Teach me how to like eggplants." This is a quote from a message in my Instagram inbox after doing days of stories focused on eggplant dishes and cooking methods.
It's hard to teach anyone to open their minds to trying new things. Ultimately, it's one's own will that stands in the way. But if you're a disliker of eggplant, luckily for you, there's no better time to try them than September. They're late bloomers and are in season now for almost everyone in the Northern Hemisphere.
If you hate eggplant, I'd argue that you've just had it improperly prepared and you've lost the desire to try it since. As someone who has always loved eggplant, I know the pain of a poorly prepared one. I've had eggplant fried at too low a temperature, resulting in the saddest wet dog of a dish I've ever consumed. It's the worst. But I've also had soggy, underfried french fries, and for some reason, poorly prepared potatoes are easier to eat. My point is, cultivating a taste for eggplant is something worthwhile. It just might take a few creative tries.
Yes, it's a fruit, from the nightshade family, much like the tomato. The eggplant was considered inedible by Europeans until the 15th century.
"As I'm sure you know, there are many colors and sizes of eggplant," he said. "The original and most prominent variety to arrive in America from Europe (previously from Southeast Asia) was white skinned and bulbous, hence the name eggplant."
But the United States is the only place to call it that. Other English-speaking societies call it aubergine.
For most Americans, their intro to eggplant comes in the form of eggplant parm. It's a winning combination, and in Italy it's known simply as Parmigiana. Nothing is more comforting than the flavors of garlicky tomato sauce sandwiched between deep-fried breaded eggplant and the sight of Parmigiano and ricotta oozing out of every gap in the stacks.
But for some reason, here in the States, as we do so often, we've applied that winning combo to other main events such as veal, chicken and even fish. The sad thing about Parmigian-ing other items is that eggplant fell to the bottom of our list of most desirable Parmigianas. I still think it's the best, and I'd like to you layer slices of air-fried eggplant (see the recipe below), simple tomato sauce and pecorino, Parmigiano, mozzarella and ricotta or any combination of those cheeses. When the plate's empty, tell me you're still not a fan, and I'll relent.
For those who are turned off by eggplant's supposed bitterness, caponata is the dish for you. It's a Southern Italian side dish in which sweet and sour come together, stretching your mind's perception of what good flavors can be. It looks like a stew, but I like it at room temp, so I think of it more as a salad. This prominent agrodolce (from the Italian words for "sour" and "sweet," pronounced AG-row DOL-chay) zing is as perfect for a summer night of 90 degrees with near 100 percent humidity (hey, New York!) as it is on a cool late fall evening. Below I've written a new steamed version that's totally untraditional but captures the agrodolce essence and is mostly raw. 
If pasta is your jam, Norma is your ticket to ride. The story goes like this: Sicilian-born Vincenzo Bellini's masterpiece opera of that name was written in 1831 and performed all over the world. His fellow Sicilians were so proud that it was receiving rave reviews that "Norma" became a word to describe any and all things that were amazing. Almost a century later, an out-of-town comedian who had studied up on the local slang tried a pasta dish layered with fried eggplant for the first time and exclaimed, "It's a Norma!" The name has stuck ever since. When prepared in the traditional Sicilian manner, long slices of deep-fried eggplant adorn a plate topped with rigatoni (or any large tube pasta — paccheri, calamarata, etc.) drenched in fresh tomato sauce and topped with salted ricotta cheese. I find this entry into eating eggplant a good one because the ingredients and flavors aren't fully homogenized. You're able to decide the ratio of the familiar to unknown with each forkful.
Now, I tend to write Italian-inspired recipes because it's part of my heritage and the style of cooking is simple. But eggplant, having circumnavigated the world, exists in many delicious forms that should all be sampled.
Imam bayildi is an onion-stuffed, olive-oil-cooked eggplant that's extremely popular in the Arab world. Japan has a skinny variety that is often broiled with sweet miso. Sometimes my favorite halal food cart vendor adds pieces of fried eggplant to my lamb over rice, and it's exquisite.
Now that you know a fair amount about eggplant, I hope your taste and curiosity for it expand. For those of you who already love this veggie, I hope your curiosity has been piqued to try it prepared in new ways.
Check out the recipes below.
Steamed Eggplant Agrodolce
A true caponata is sweet and tomato-heavy, but this one is sweet and acidic. I really want you to make it your own: Ingredients like the pickled mushrooms can be swapped out for anything you like that's pickled from a jar or your supermarket's salad bar. Dried cranberries can be raisins, currants or dried apricots. If you make swaps, taste it before you serve and remember that this is supposed to both sweet and sour. Don't be afraid to add sugar, vinegar or salt if that's what you sense is needed.
1 baby eggplant, cut into 1/2- to 1/4-inch cubes
1/2 cup dried cranberries
1 to 2 scallions, sliced on the bias
1 pint of a mixture of pickled ingredients — pitted olives, pickled mushrooms, etc.
1/4 cup extra virgin olive oil
1/4 cup Parmigiano-Reggiano, in 1/2-inch chunks or shaved with a peeler
1/4 cup walnuts, roughly crushed by hand
1 to 3 tablespoons balsamic vinegar, depending on how viscous it is (use less if more viscous)
Drizzle of honey
Red pepper flakes, to taste
Salt, to taste
Medium-size pot for boiling water
Metal colander or strainer that fits inside (doesn't have to be perfect)
Lid for the pot (also does not have to fit perfectly)
Medium mixing bowl
Vegetable peeler (for cheese)
Fill the pot a quarter full with water and bring it to a boil. Place the cubed eggplant into the strainer and set atop the water. Cover with the lid. A little steam leakage is OK. Steam for 8 to 10 minutes or until soft and edible.

For the dressing: In a mixing bowl, combine the olive oil, vinegar, honey and salt. Mix well.

When the eggplant is cooked, dump it into the dressing and stir. Add all the other ingredients, mix and taste for the agrodolce. Add vinegar, salt or honey to find a powerful balance, if needed.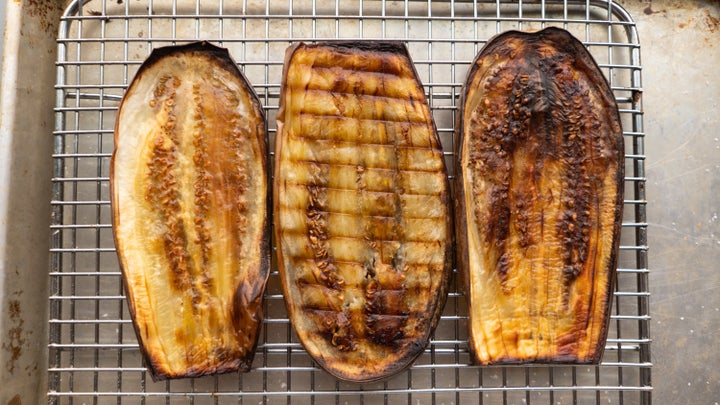 Air-Fried Eggplant
In order to reduce unpleasant cooking odor from frying, reduce the quantity of oil needed and reduce cooking mess. This is just a cooking method, so the amount you make is up to you.
Eggplant
Extra-virgin olive oil
Kosher salt or coarse sea salt 
Sheet tray lined with a rack
Heat convection oven to 400 degrees F or regular oven to 425 degrees F.

Remove the top of the eggplant and cut 1/4-inch slices, top to bottom (the long way).

Lay them out and generously and evenly sprinkle them with salt. This is to draw out the bitter moisture, not for seasoning, so don't worry about using more salt than you'd like to taste. Allow to sit for 30 to 90 minutes.

Wipe off the moisture and salt with a paper towel.

Lay the pieces on the rack-lined sheet tray (previously salted side up). Fully cover each slice with 1 to 2 tablespoons of olive oil.

Bake for 40 to 60 minutes, until deeply toasted brown.

To hold the temperature until your food is ready: Remove the eggplant, reduce heat to 200 degrees F and open the oven door for 5 minutes to allow the temp to come down. Return the eggplant to the oven to keep warm for up to an hour.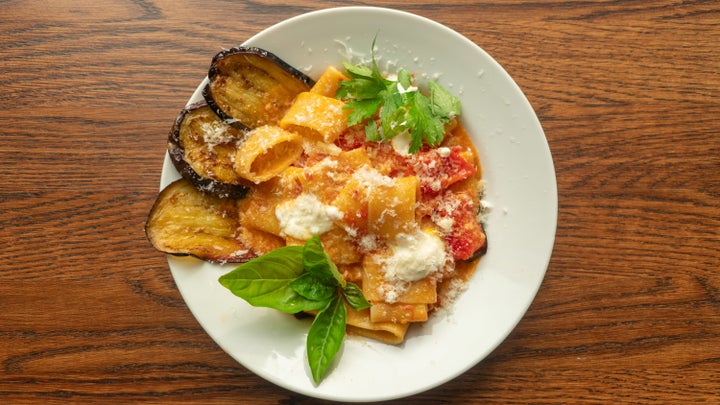 Pasta Alla Norma
1/2 pound good-quality rigatoni, paccheri or calamarata pasta
2 baby to midsize eggplants, sliced 1/4 inch lengthwise
10 Roma or on-the-vine tomatoes, halved
4 cloves garlic, sliced
1/4 cup extra-virgin olive oil
Regular olive oil for frying (or use air-fried method)
1/4 cup white or rosé wine
1/2 cup grated Pecorino Romano cheese
Pot large enough for boiling pasta
Saucepan 
Frying pan for the eggplant (or sheet tray with rack, if air frying)
Strainer or large slotted spoon.
Lay out the slices of eggplant and generously salt, allowing moisture to come to the surface. Allow to sit for 30 to 90 minutes.

Wipe off the moisture and salt with a paper towel.

Cook eggplant with either the air-fry method or the shallow-fry method. Hold the slices in a 200 degree Fahrenheit oven.

Set the pot of water to high heat

In the saucepan, add 1/4 cup olive oil over medium heat. With a pinch of salt, simmer the garlic, stirring or angling the pan for full submersion. Just when the color of the garlic begins to change, turn off the heat and slowly add the wine, stirring to combine. Once the temperature has dropped, as indicated by the end of potential splattering, return the pan to medium heat, add the halved tomatoes and cover the pot.

Simmer for 15 to 20 minutes, then remove the lid, break up any large pieces of tomato with a wooden spoon and continue to cook at a moderately high simmer.

Salt your pasta water generously, add the pasta and set a timer for 2 minutes shy of the shortest cooking time on the box.

When the timer goes off, drain and transfer the molto al dente pasta to the sauce. Cook for the remaining 2 minutes. If the sauce seems too watery, add 1 heaping tablespoon of flour to the sauce, stir well and simmer for an additional 45 seconds.

Add three-fourths of the cheese to the pot and stir well.

Line two warmed plates with the oven-warmed eggplant slices and scoop the pasta on top. Finish with the remaining cheese and fresh basil leaves, if desired.

Enjoy.