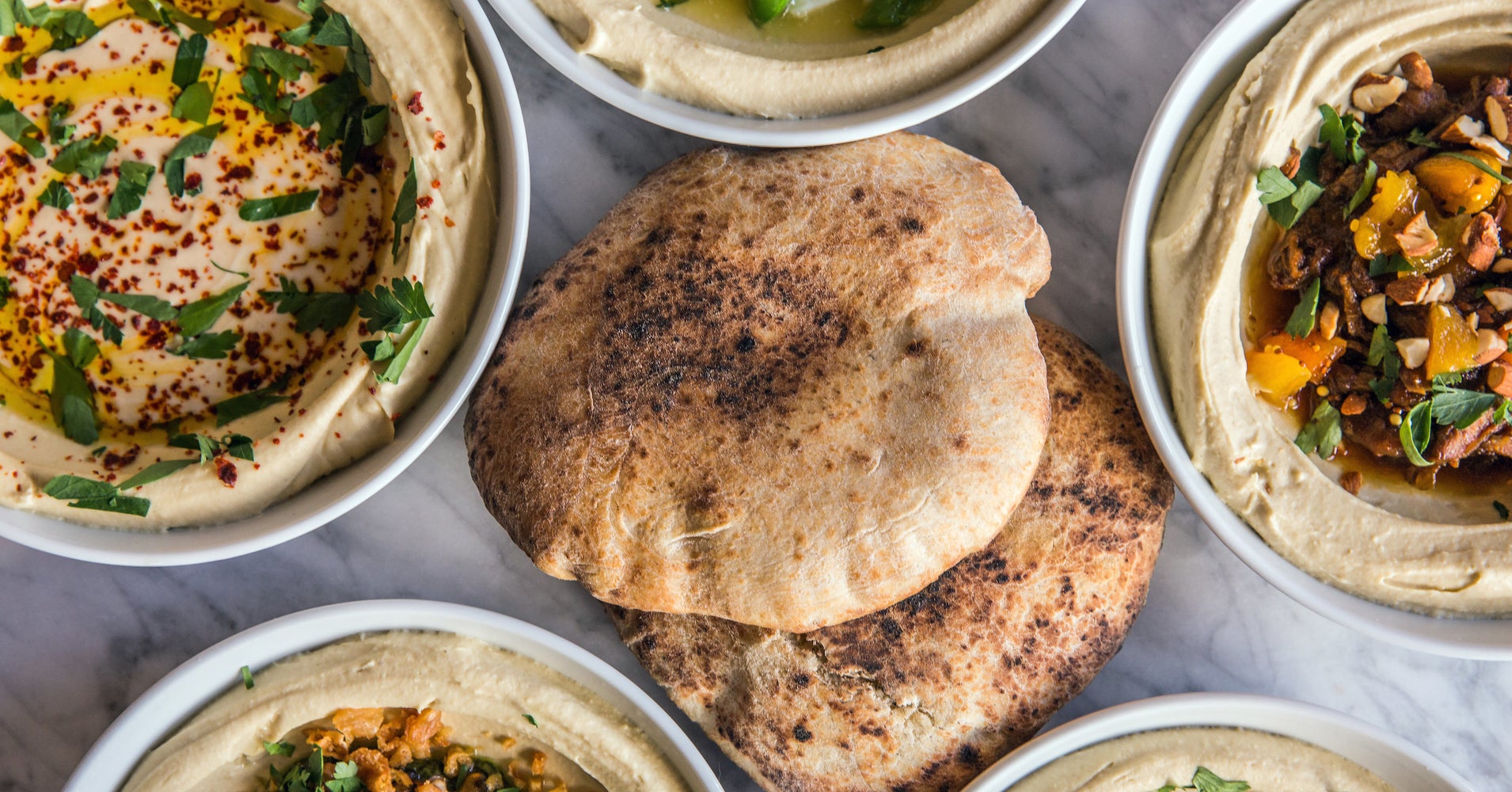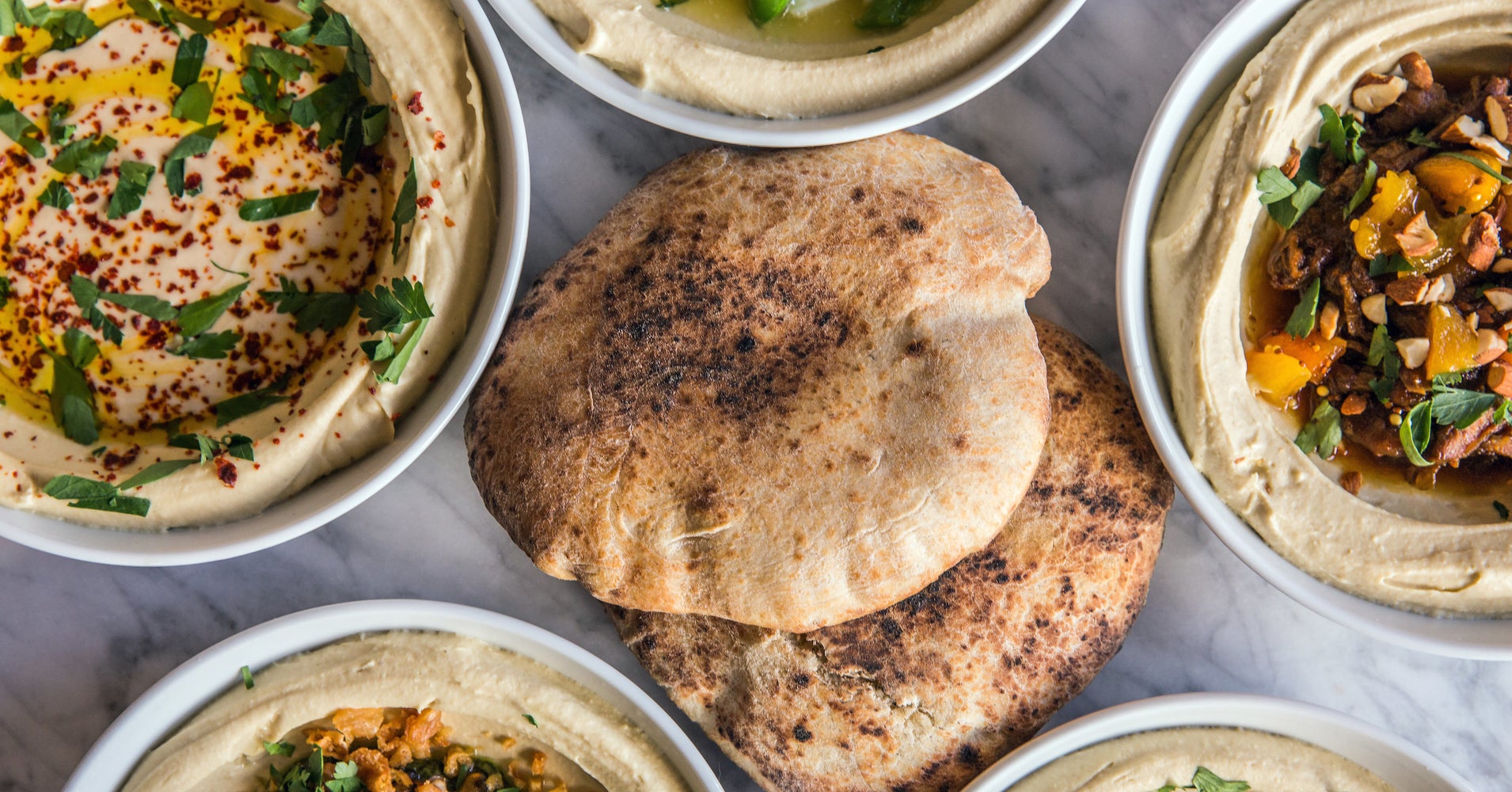 If you've only ever had plain hummus, as Jay-Z has said, "I feel bad for you, son."
I recently watched as my friend dipped sad-looking pita chips into an oversized tub of plain, supermarket brand hummus for 20 minutes and called it lunch. Perhaps that's how you eat hummus, too. But you can do better, my hummus-loving friend.
It's my favorite food on planet Earth ― and with just a few easy tweaks, you can turn that cold, creamy substance into something way more delicious.
I'm sharing the simple improvements I've been making to store-bought hummus for the past 20 years, and I'm also relaying tips from two of the best chefs in the U.S. when it comes to chickpea charming: Alon Shaya of Saba and Michael Solomonov of Zahav and Dizengoff.
If you have time, I'd recommend preparing Shaya's simple, delicious hummus recipe from his new memoir/cookbook Shaya, and Solomonov's legendary one from his Zahav cookbook. But if you only have time to go to the supermarket, here's how to improve a tub of store-bought hummus.
Throw the hummus in a food processor
Both Shaya and Solomonov love this easy game-changing trick that changes the consistency of the store-bought hummus.
"By incorporating [the hummus] in a food processor or simply whisking it in a bowl, you can smooth out the hummus while adding the essential flavors that will make it taste freshly made," Shaya told HuffPost. "The goal is to achieve a lighter and smoother texture than what comes out of the container."
It's not just the consistency that changes: it's the temperature.
"Cold hummus is not acceptable," Solomonov told HuffPost. "What I like to do is take store-bought hummus and stick it in my food processor to re-whip it for about three minutes. The motor [of the food processor] will warm it up."
If you've only had cold hummus before in your life, this is a must-try.
Sprinkle generously with za'atar and sweet paprika
Za'atar (pronounced zah-tar) is a magical blend of spices that's earthy, tangy and delicious with Mediterranean food. What's in it? It can vary wildly depending on the brand and country of origin (you can buy versions from Syria, Jordan, Lebanon, etc.). But its foundation usually revolves around sesame seeds, dried herbs and sumac.
I'll throw it on everything from eggs to avocado toast. But my favorite dish to enjoy za'atar with? That's right: pizza. Just kidding, it's hummus.
Spice up (pun intended) your hummus with za'atar and a healthy amount of sweet paprika ― some people enjoy smoked paprika on hummus, but I think they're smoking something ― and you've got two additional flavors that brighten up the store-bought stuff.
Beware: As mentioned before, not all za'atar is created equal. I've had awful versions from well-known spice shops, but I can recommend the one from Pereg.
Add a few glugs of good olive oil
You're on the right track once you add za'atar and paprika to hummus, but to really elevate the dish, you need to add olive oil. 
I recommend spooning hummus onto a plate, drawing a circle in the middle of the blob of hummus with the same spoon, and pouring olive oil into that spot. When you scoop up the hummus with vegetables, pita or a pita chip, make sure to get some olive oil and hummus in the same bite.
"I like Partanna olive oil, which is available in many grocery stores, but whatever your favorite one is will work," Shaya said. "Try to pick a more subtle grassy flavor profile versus a bold and peppery flavor profile so it doesn't mask the other flavors in the hummus."
Eating olive oil and hummus together feels creamy, buttery and decadent, with the added bonus that studies have shown that it's good for you.
Add some tahini
If tahini and hummus were people, they'd be best friends. Tahini is a ground paste made of toasted sesame seeds, and while you may not have used it much in your life up until this point, it's about time to start. If you're inviting hummus to your dinner party, you might want to also consider inviting its pal tahini.
"I tend to feel that sometimes store-bought hummus can lack the creaminess and pop of lemon and garlic that I love in hummus," Shaya said. "One way to counteract that problem is to follow a simple tahini recipe [Editor's note: he recommends the one in his book, which is fantastic] ― it combines great quality raw tahini with lemon juice, water, and garlic."
"I feel like tahina sauce makes the best dip ever," he said. "When you add fresh herbs and avocado to it, you make a really good green goddess dressing. And if you add chile and garlic, you've got a buttermilk ranch/cool ranch situation going on."
Make the hummus your base for a bigger meal
If you don't already follow Solomonov's Dizengoff restaurant on Instagram, you should. You'll notice that Dizengoff often adds delicious ingredients to the center of the hummus dish, including all kinds of seasonal veggies and meat. Steal their idea!
"[Put] the hummus in a bowl, add sauteed ground meat, pine nuts, and olive oil, and you've got something special," says Solomonov.
Stop dipping carrots and broccoli into it
You've probably been to a party that featured an open tub of hummus with a plate of cut-up veggies next to it. Those veggies probably included carrots, celery and broccoli, which are some of the least appetizing vegetables I could think of to pair with hummus.
Instead, pair your store-bought hummus with radishes, tomatoes, cucumbers and pickles (not sweet ones, please!). Don't believe me? There's a reason that Mediterranean restaurants never stuff hummus and falafel sandwiches with broccoli, folks. It's just not good.
Ditch the chips
While I can appreciate a good pita chip in a pinch, absolutely nothing beats fluffy pita for dipping in hummus. Ninety-nine percent of the time, any store-bought pita can't quite substitute for warm, fluffy pita that could double as a pillow.
So when you can't get perfect pita from places like Saba or Dizengoff, you improvise!
"Softer bread and baguettes are good for [dipping]," Solomonov said. "You could take a leftover baguette, soak it in olive oil with za'atar, and slow roast it so it becomes oily in a good way, like bruschetta. I'd throw it on a sheet tray and put it in the oven."